About
The harmonica found me after I'd been spurned by the tenor saxophone. I'd been a hopeless blues geek throughout high school and liked to think that growing up on the Mississippi River somehow connected me to the Delta. In my adolescent pre-harmonica tenor sax period, though, I knocked around in a band which did some mainstream jazz covers. One night while trying to muscle my horn through Horace Silver's Song For My Father I encountered every horn player's nightmare: uncooperative fingers, limp embouchure, bleating tone and no ideas. It wasn't pretty. If you were there that night I just want to say that I'm sorry. But it proved to be a usefully humiliating experience: it forced me to consider other musical options. My real love had always been the blues and I'd been so moved by the musicianship and poetry of both Sonny Boys, both Walters as well as Cotton…so it seemed natural to head down to the music store to pick up my first Marine Band. I later sold my tenor sax to Ed Peterson, who went on to have a rather illustrious jazz career, and he's certainly made better use of the horn than was ever going to happen with me.
After college I landed in Chicago in the late '70's and was astonished by two things: first of all, blues giants roamed the city freely and, secondly (and sadly), few people went out to hear them. It was a dreamy scene for a young blues fan. I would wander into Wise Fools to find Honeyboy Edwards playing to an empty room and then spend a couple of sets sitting in with him; my roommates at the time threw a house party with a live band and I found Eddie Taylor playing in my living room; you would drift into a club and be one of only a dozen people in the place, listening to the Aces, Big Walter, Floyd Jones, Sunnyland Slim, Odie Payne, Little Brother, Blind John Davis, Otis Rush, Mighty Joe Young, Fenton Robinson or Jimmy Rogers… Looking back, I recall friends who took fuller advantage of the musical plenty available at the time, who more completely immersed themselves in the scene than I was able to do, and I have some regrets for being distracted by pesky intrusions such as work and grad school. But I gigged around town when I could, had a group of musical pals and learned a great deal.
Feeling myopic today? Click on the pics and they will magically enlarge!
Fast forwarding past marriage, past the move to the burbs, past early dues-paying professional experiences, past kids….I was lucky to make the acquaintance and form a lasting musical partnership with my good friend, James Fraher. I'd stopped by Jim's photography studio to check out his blues posters–this was sometime in the early '90's–struck up a conversation and we discovered that we had similar musical interests. Jim, of course, has gone on to be one of the most widely published photographers of the blues. A staff photographer for Living Blues (I think he holds the record for most cover photos), Jim's photos have also appeared in Downbeat, Guitar Player, in numerous other publications and on more than 150 record covers. In 1996 he received the Keeping The Blues Alive Award for his blues photography and you can see his photos in the Smithsonian, the Chicago Blues Archive at the Harold Washington Library Center and the University of Mississippi Blues Archive. He is the author of The Blues is a Feeling: Voices and Visions of African-American Blues Musicians, published in 1998 and he's also collaborated with Houston writer Roger Wood to produce two books published by the University of Texas Press: Down in Houston: Bayou City Blues and Texas Zydeco. More on Jim's work, as well as that of his wife, Connie, is available at www.bogfire.com.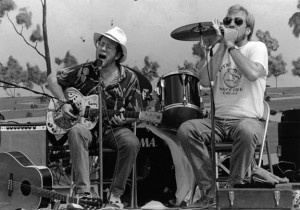 When I met Jim he already had an impressive blues photography portfolio but his talents as a singer, guitarist and writer were less well known. We started jamming together and found that we complimented one another well. We worked up an acoustic blues repertoire which included some Delta classics with Jim playing slide, along with some acoustic adaptations of Chicago blues gems along with some original material. Set lists and gig dates came along in fairly short order.
We called ourselves Rollin' & Tumblin' and gigged around Chicago and the midwest throughout the '90's, doing fests, coffee houses, bookstores, club dates, special events….anyplace where there was a budget or a tip jar and an interest in acoustic blues.
| | |
| --- | --- |
| For a period of time in the mid '90's we were represented by a booking agent who also managed a number of other blues artists including Willie Kent, Jimmy Lee Robinson, Fruteland Jackson & Reverend Robert B. Jones. We would sometimes all be booked as part of a package of performers, making for some memorable fest and club gigs. This poster comes from such a gig, in Eureka Springs, AR. | |
| | |
| --- | --- |
| | Being on the road to play at fests with great performers such as Fruteland Jackson (www.fruteland.com), Reverend Robert B. Jones (www.revrobertjones.com), Jimmy Lee Robinson & Willie Kent was a terrific experience. Pictured in this photo upper row from left-right: James Fraher, Fruteland Jackson, John Jochem; lower row from left-right: Karen Nwafor (manager), Audrey Queen Roy, Rev. Robert B. Jones. This shot was taken at the Battle Alley Blues Fest, Holly, MI, 1994. Fruteland (Chicago based) and Robert (Detroit based) are still very active performers and are not-to-be-missed if they happen to be coming to a fest or event near you! Be sure to check out their websites and purchase a CD–they're among the most talented and dedicated blues artists you'll find. |
| | |
| --- | --- |
| Photo on left: Rev. Robert B. Jones, James Fraher, John Jochem. Photo to the right: John Jochem & Audrey Queen Roy, who was really belting out the blues that day. Both shots taken at the Battle Alley Blues Fest, Holly, MI, 1994 | |
| | |
| --- | --- |
| | Rollin' & Tumblin' was a busy little acoustic blues duo in the mid-90's. We did an Irish tour in 1997, playing a series of pubs around the island for a couple of weeks, eventually landing at the Castlebar Blues Festival in County Mayo. Michael Roach, originally from D.C. and now a UK transplant, was also on the bill. Performers from the states are often surprised at the enthusiastic reception they receive in Europe–that was our experience in the '90's and it's still true today. |
| | |
| --- | --- |
| Jim & I have been performing as Rollin' & Tumblin' since the early '90's and even though we're now separated by the Atlantic Ocean, we try to scare up some gigs for ourselves every year. This is from a gig in Ireland in 2007, when we opened for zydeco & blues guitarist, Sherman Robertson. | |
| | |
| --- | --- |
| A couple of recent shots of Rollin' & Tumblin', taken at Jim's house in County Sligo, Ireland, sometime around 2007. It's an amazing thing to have a 20 year musical partnership. Since there's an ocean between us the gigs are few and far between. but it's usually easy to fool people into thinking we still play together all the time. "Like fallin' off a log", says Jim. | |
When I migrated north to Chicago in the late '70's I found that the blues scene in the city lived up to most of my expectations. At that time, there were still active blues clubs on both the South and the North sides of the city, fabled places like Theresa's and the Checkerboard were still in operation and Maxwell Street was also still in full swing on Sunday mornings. I'd been a crazed blues geek before arriving in Chicago, reading everything I could find, collecting rare records, and the blues scene at that time pretty much fit my expectations.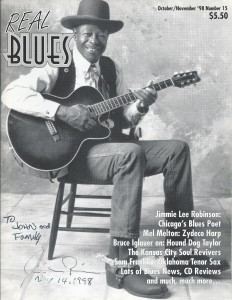 But a couple of things caught my attention. First of all, I realized that blues artists didn't always play blues. On a typical night out in a blues club you might hear the theme song from Peter Gunn, Mustang Sally, Proud Mary, some R & B or maybe a nod towards a jazz standard, depending who was onstage that night. Through my buddy and musical partner, James Fraher, I became friends with veteran bassist/guitarist Jimmy Lee Robinson (see him proudly smiling on the magazine cover to the left). Jimmy Lee once told me that, as a boy, the first song he'd ever heard John Lee Williamson play on the harmonica was I'm An Old Cow Hand on the Rio Grande. He had a vivid recollection of this memory: he'd been walking by Sonny Boy's house, saw him on his front stoop and listened to him play the tune. I used to live for stories like that. Actually, I still do.
The other thing that I realized about the blues scene was that there were layers of talent. We all knew about the headliners, the guys signed to the record deals. But I came to see that for every blues artist whose name and career were familiar to me, there were many other talented, poetic and soulful musicians who I was just discovering. Sometimes these were players who, for whatever reason, were never able to leave the day job but who could have been gigging every night of the week. Other lesser-known players were the ones who were playing rhythm guitar, bass or drums behind the headliner, or who wrote the songs, whose names were vaguely familiar from record liner notes. I was very fortunate to develop friendships and lasting playing relationships with two such people: Jimmy Lee Robinson & Johnnie Mae Dunson. They're both gone now but their influence upon Chicago blues is as lasting and durable as anyone who has come before or after.
Johnnie Mae Dunson & Jimmy Lee were close friends with one another and, in their own way, they both contributed to the Chicago blues sound. And they both were known for their fierce efforts to save Maxwell Street. While they were ultimately frustrated in their efforts to save Maxwell Street they were very successful in drawing attention to the history of Chicago blues, its vital role in American culture, and in this way made lasting contributions to enrich the Chicago blues scene.

Johnnie Mae claimed to have written 600 blues songs and I would guess it's probably true. She'd been Jimmy Reed's drummer at one time and penned songs both for him and for Muddy Waters. When in her 80's she loved to tell people that, as a child, the doctors had predicted she would never live past her 14th birthday. As my friend Jim sings in the song dedicated to Johnnie Mae (hear it on the audio page on this site) she proved the doctors wrong. And it really did seem that she'd tapped into some otherwordly life force, one which manifested itself both in limitless creativity and startling stubbornness. I recall being on Maxwell Street, just prior to its closure and later destruction, and she asked that I push her in her wheelchair up and down Halsted Street so she could harangue the store owners into kicking in some funds to save Maxwell Street. She was hell on wheels, literally–I think the owner of every shop we visited eventually coughed up a donation once they saw she wouldn't leave empty-handed. Johnnie Mae died in 2007 at the age of 86. She is survived by her son, the great Minneapolis-based guitarist, Jimi "Prime Time" Smith. Her friend Jimmy Lee Robinson died several years earlier, in 2002, at age 71.
| | |
| --- | --- |
| I played with Johnnie Mae at all of her Chicago Blues Fest appearances from the late '90's until her death in 2007. Over the years we played every stage at the fest, at one time or another, including a couple of appearances on the main stage. These shots show us with another Maxwell Street legend: bass player Dancin' Perkins. | |
| | |
| --- | --- |
| I loved doing gigs with Johnnie Mae–whether at the fest or in a club–because it gave me a chance to play with some truly fine players. For most gigs, she was backed-up by her son, the great Jimi "Prime Time" Smith, who would make the drive from Minneapolis with his whole band. For the gig shown here it was just the two of us with his mom. | |
| | |
| --- | --- |
| Johnnie Mae really listened to the band and coaxed you to play your very best. It was like she knew you had something within yourself to say and would she would nod at you to keep on soloing till you managed to get it out. She also had a remarkable talent for energizing a crowd, interweaving her blues lyrics with stories and inspirational encouragement. She would sit up late at night writing lyrics and then call me the next day, asking that I play harp over the phone while she tested out the lyrics. That was the closest thing we had to a rehearsal. | |
| | |
| --- | --- |
| You had to be on your toes playing with Johnnie Mae. She'd bring a tune to an abrupt end, shift to gospel chord changes or bring the band down so she could talk to the crowd. Part of her charm was her inventiveness and whimsy–the crowd could sense the spontaneous nature of the performance. | |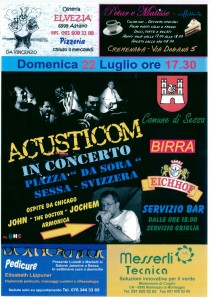 Everybody discovers that life can take odd twists and turns. It's that way in musical adventures, too. For reasons which still are a puzzle to me, I managed to form a lasting and deep musical relationship with a band in northern Italy/southern Switzerland. Actually, my friends there maintain two bands: Acusticom (www.theacusticomband.com), which has a repertoire covering several musical styles including blues, and Gianni Cipolletti's Blues Feeling, which is a hard core blues power trio. I've been part of the band(s) since 2004 and, in most years, I'll try to make it over to Italy a couple times a year to play a series of gigs with them. It usually starts with enticing emails in which they dangle out the prospect of cool venues, appreciative crowds, plentiful euros and great company in their efforts to lure me over for a visit. Except for the euros, they usually live up to their promises. So I keep going. On a typical trip we'll do a series of shows which range from outdoor festivals, private parties, restaurant/bar gigs or sometimes corporate events.
I've played dozens of gigs with my Italian & Swiss friends, in towns and villages all around the Swiss-Italian border and, as you can see above, on the tops of mountains. My accidental meeting with them is certainly one of the luckier breaks I've had in my musical adventures–it all started in 2004 when I just went up to introduce myself to the band at an outdoor show they were doing…the rest is history. It was the boys in Switzerland who christened me "The Doctor" and the name has stuck ever since.
| | |
| --- | --- |
| When I play with the boys in Europe I never know where we'll be for the night. We might be in a forest near Bellinzona (left) or we might be at an oddball gig like a trucker's convention. I took the shot to the right from the stage–the truckers pulled their rigs up close to the stage and blasted their horns at midnight. Weird but fun. | |
Towards the end of 2009 I found myself at musical loose ends. A few years had passed since Jim did his move to Ireland and I guess it took that long for me to realize that he really wasn't kidding–he lived there now and playing opportunities together would be rare. Also, I could only do so many trips abroad to play with my Italian / Swiss friends. All my playing buddies were in Europe! I was gigging occasionally in the Chicago area with the Magic Frank Blues Band and enjoyed doing electric blues again, but I missed having an acoustic blues outlet. I learned that someone I'd known professionally as a fellow mental health provider, Donna Herula (www.donnaherula.com), also played a mean slide guitar so I decided to get in touch with her. We found that we hit it off well and we proceeded to work up an acoustic repertoire, starting to gig together in the summer of 2010.
| | |
| --- | --- |
| Donna is a terrific slide player and a joy to play with. Gigging with Donna means that there will always be other guitar players standing near the stage watching her intently, trying to figure out how she gets such a lovely, ringing tone out of her National while playing such fast licks. | |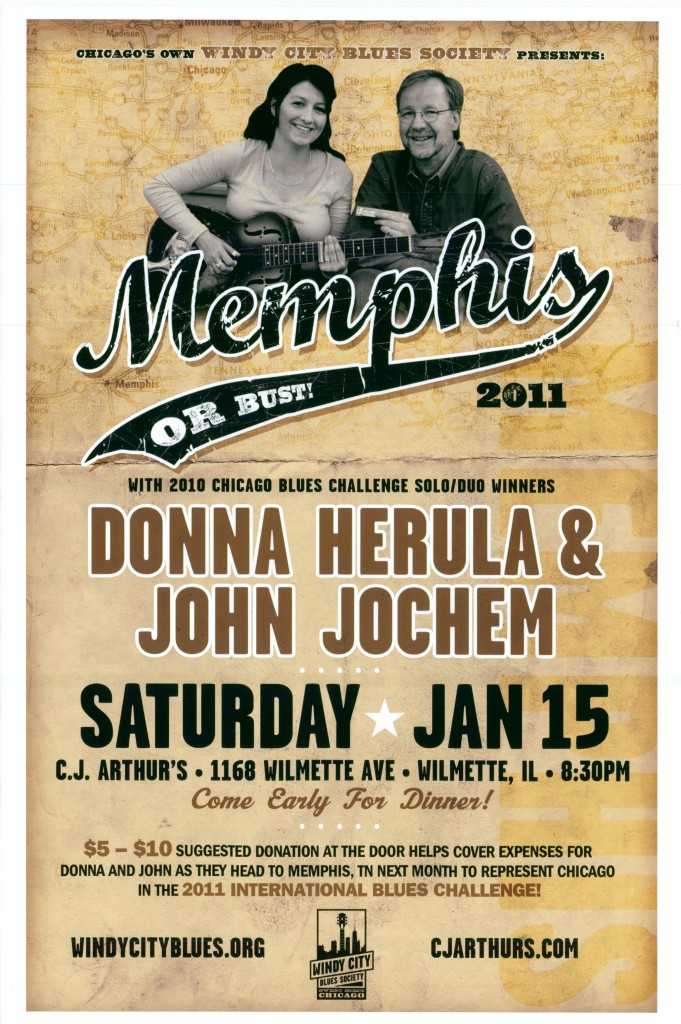 During the summer of 2010, as we grew more comfortable gigging together as a blues duo, Donna suggested that we enter into the Chicago Blues Challenge. This is a contest hosted by Chicago's blues club, the Windy City Blues Society (www.windycityblues.com –they'd love to have you as a member!), which is an affiliate of the Memphis-based Blues Foundation. The Blues Foundation sponsors many programs supportive of blues music and blues musicians, among them the International Blues Challenge (IBC). This is an annual competition in which local affiliates–there are well over two hundred of them in the U.S. and abroad–hold contests in two categories, the solo/duo category and the band category, the winners of which receive the honor of representing their affiliate at the IBC in Memphis in their respective category.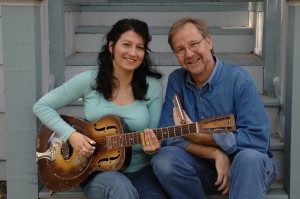 Donna & I were very proud to win the honor of representing Chicago in the 2011 IBC in the solo/duo category, an event which was held in Memphis in February, 2011. The poster at right is from a fund raising gig we played after winning in Chicago to help finance our Memphis adventure. Participating in the IBC was a terrific experience. I'd been to Memphis and points south on a previous blues pilgrimage and was familiar with the area and its history (what blues fan isn't?). During the IBC the city is alive with musicians who have won the privilege of representing their home blues affiliate club in the competition and the IBC atmosphere is a charged mix of blues camaraderie along with hometown competitive pride. The depth of talent at the IBC is striking and you can't help but be awed by the musicianship and dedication to the music which is on display. The Blues Foundation does a terrific job organizing and running the event and I'd recommend you put attending an IBC in Memphis on your travel to-do list.
| | |
| --- | --- |
| Playing with Donna required me to stretch my musical comfort zone a bit. While we covered some Maxwell Street-inspired material from Robert Nighthawk, we also played pre-WWII tunes. Picture at left is from a set we played at Legends, November, 2010, during the Chicago Blues Challenge band finals. Shot at right finds me with Donna back at the Chicago Blues Fest, June, 2010. | |
| | |
| --- | --- |
| While in Memphis for the IBC we headed down to Helena, AR to visit with the legendary "Sunshine" Sonny Payne. Sonny had us on the King Biscuit Time show, which was like walking onto the page of a history book. The kind folks at KFFA asked that we autograph the equipment case on display in the Delta Cultural Center, which holds the signatures of many other prior King Biscuit Time guests. | |